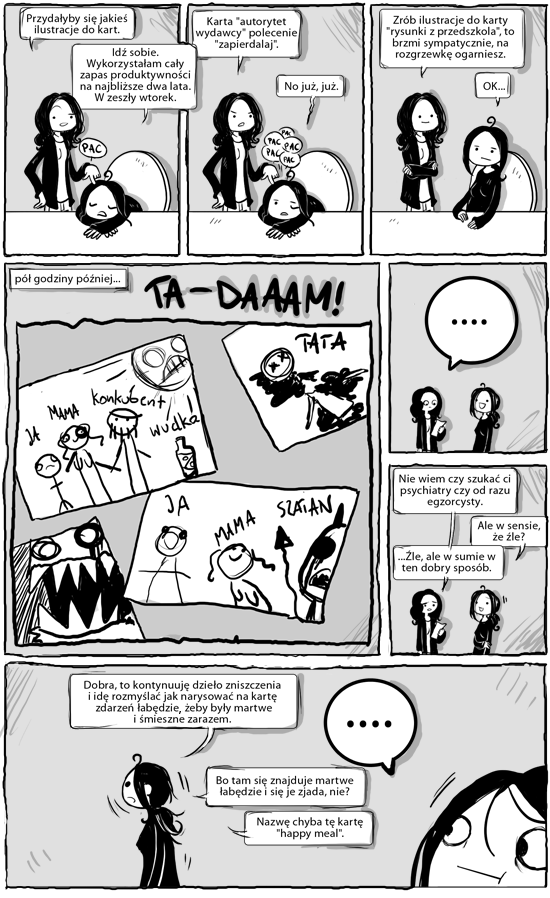 …i tak się właśnie robi ilustracje do gry. Strona pochodzi z nowego albumu co się robi i też go można kupić na polakpotrafi, będzie wysyłany razem z grą. Eksperymentalnie będzie też jako pierwszy mój album dostępny w wersji elektronicznej. Jak kto chce to jest on w pakiecie LENIWA BUŁA i każdym wyższym. Będzie w takim formacie jak zwykle, i będzie mieć 48 stron lub więcej. Jutro powinna być okładka. Tematycznie będzie o pracy w wydawnictwie i okolicach.
Jak kto chce obczaić jak wyszły łabędzie z komiksu to są tu, choć malutkie. Udostępnili też rysunek z panią Gienią, której cycek wpada do garnka z resztkami z baru mlecznego. Wyszło mi to niechcący, ale uznałam, że jest idealne i trzyma klimat ultimate bieda universum.
Podobało mi się ilustrowanie kart i myślę, że ten dziwny styl, jeszcze niestaranniejszy niż zwykle, się przeniesie na kolejne (s)twory. Is fun. Lubię tak rysować.
-Ślimag