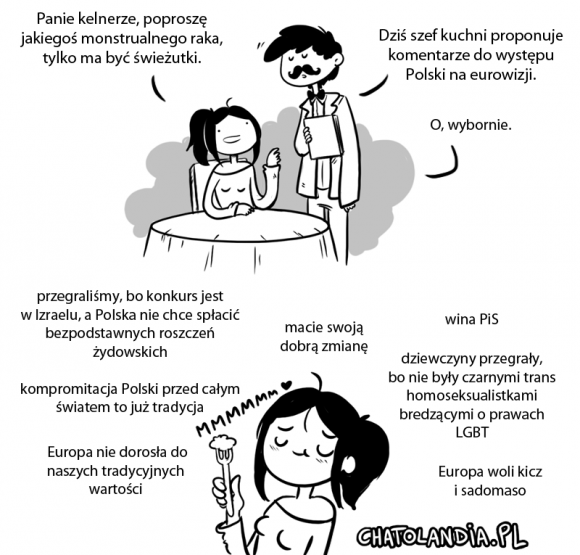 Eurowizja to moja wielka namiętność, ponieważ lubię ból duszy.
Moje krótkie przemyślenia o występach, które nikogo nie interesują:
San Marino wyglądało jak film "Wujek Mietek 3: zemsta karaoke"
Australia mi się strasznie podobała, bo ładne śpiewanie i te panie się tak fajnie gibały na tych tyczkach
Portugalia. Wow. To było coś, dużo cosia.
Islandia mega nie w moim guście, ale to anemiczne, beznamiętne machanie gdy przeszli dalej mnie kupiło, super zespół.
Zastanawiam się czy po występie Polski będziemy mieli najazd turystów, co będą chcieli zobaczyć te tradycyjne, polskie, złote korony. Jakoś szczególnie za Tulią nie przepadam, ale doceniam występy na eurowizji z piosenką w rodowitym języku wykonawcy i elementy folkowe. Jak wszyscy wyglądają jak jakieś wannabe Britney śpiewając po angielsku to co to jest za reprezentacja kraju, prawda, to by mogło być skądkolwiek.
A teraz idę dalej czytać jaka to była dla nas kompromitacja na arenie międzynarodowej.