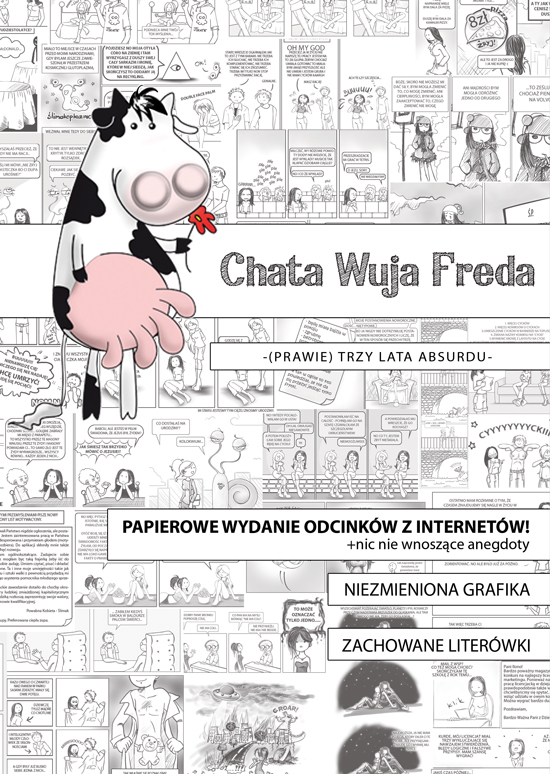 Do wygrania papierowa wersja Chaty (Można wymienić na inny mój komiks, jeśli się woli inny). (Wystawię ją na allegro jakoś dziś wieczorem, a jakby kto chciał to ślimaki 1 już są http://allegro.pl/slimacze-opowiesci-i2635352493.html).
Miałam dzisiaj pomysł, żeby zrobić bloga o rysowaniu, który będzie generalnie nieśmieszny i tak dalej i pełen tragicznych rysunków 😛 Zapewne nic atrakcyjnego dla Was, ale dla mnie jakośtam ważne. I nie mam pomysłu na nazwę tego bloga. I to właśnie trzeba w ramach konkursu wymyślić.
Nazwa powinna zawierać TYTUŁ i PODTYTUŁ oraz co najmniej jedno z tych słów (lub podobnych tematycznie): ślimak, cierpienie, nieporadność w rysowaniu. Najlepszy "mój" pomysł był "Ślimak próbuje rysować", ale to trochę nie bardzo, z wiadomych przyczyn. 😉
Inny pomysł to był na przykład tytuł: "Cierpienia młodego Ślimaka" podtytuł "proporcje? jakie proporcje?".
Proponowane nazwy proszę pisać w komentarzach tu i/lub na fejsie.
GL, HF.