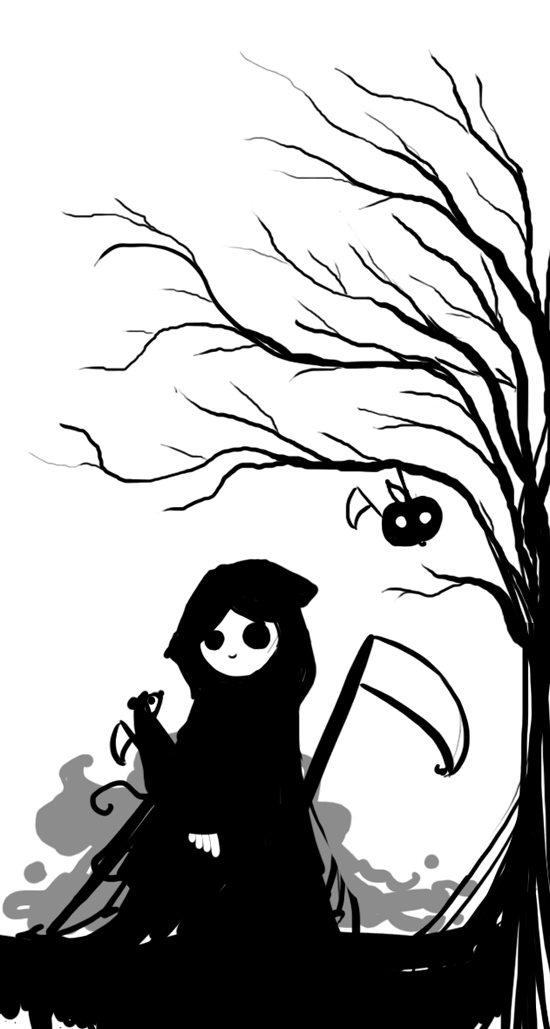 Jakiś czas temu rzuciłam ten obrazek na fp rysunkowy z następującym opisem tego jak powstał:
>miej zamiar narysować coś optymistycznego
>zorientuj się, że narysowałaś śmierć
>zaklnij szpetnie
>zorientuj się, że śmierć się uśmiecha, więc w sumie jest optymistyczna = sukces
>co się tak będzie uśmiechać bez sensu, jebnę jej szczura, Śmierć Szczurów, lubię Śmierć Szczurów
>a jebnę se drzewko
>jakieś łyse to drzewko
>jebnę mu jabłko
>niech to będzie śmierć jabłek
>???
>profit
>zastanawiaj się, czy dorobić do tego ideologię
>nie
>mieszane uczucia
Liczyłam na jakieś pełne empatii komentarze typu "jeszcze nie jest dla ciebie za późno, tu masz numer do psychiatry / egzorcysty", ale zamiast tego dostałam raczej komcie w stylu "o, tapeta na telefon na Halloween!".
Tak więc: moi drodzy, oto tapetka na telefon na Halloween, yeah!