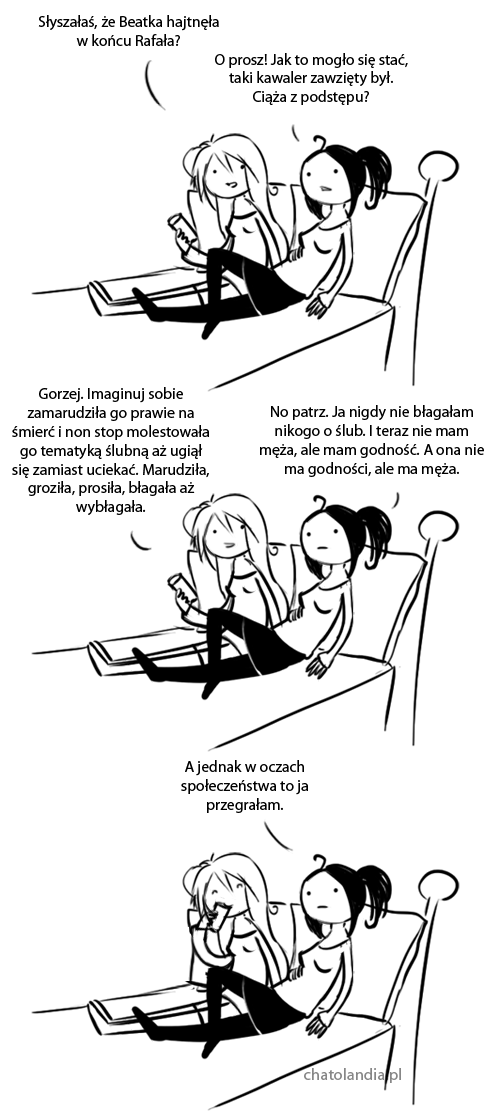 Ponieważ robiłam w życiu w obsłudze klienta i takie tam umówmy się, że w odcinku mowa o godności matrymonialnej 😉
Dostaję dużo pytań o kalendarze i z nimi sprawa jest taka:
– drukują się teraz
– jak się wydrukują to je powysyłam
– jak je powysyłam to zobaczę ile tego zostało
– to co zostanie będzie do kupienia
– jeśli się okaże, że nic nie zostało, a będą chętni to się dodrukuje.
Poza tym robię dodruk ślimaczych 1 i w ogóle wszystkiego dodruk.
Z tego co pamiętam też nie informowałam poza fb o nowym grumpy kubku z króliczkiem. Jest on zainspirowany moimi postępami w rysowaniu ogólnie. Planuję parę nowych wzorów kubkowych, bo długo nic nowego nie było.
Z innych wieści Kiciputek narysował nowe Barwy Biedy 🙂 Jest to pierwszy na Barwach dialog zainspirowany real life rozmową z Marcinem 😉
Idę coś rysować czy coś.
– Ślimag