1. KALENDARZE
Kalendarze miały być dziś do odbioru, ale nie były, bo miały spieprzoną okładkę i trzeba poprawić ;l Co oznacza jakieś 2-3 dni obsuwy. Bez obaw jednak powinny dojść do Was przed Mikołajkami! Mogłam wziąć te brzydkie okładki, ale już wolę wyłożyć kasę na drugi druk i te 2-3 dni opóźnić niż dać Wam kalendarz z syfną okładką.
Przepraszam za tę komplikację.
Poza tym wyszło ładnie, tasiemka bardzo czerwona, z tego co widzę miesięcy nie pochrzaniłam, ogólnie OK.
Drukarz poczęstował mnie anegdotą o tym jak to drukował kalendarz dla pewnej państwowej instytucji, jakaś obłędna ilość sztuk. Kalendarz ten miał podobno alternatywny timeline, w którym luty miał 31 dni i nie było grudnia, za to były 2 marce. This is magic. A ja myślałam, że jak prawie wysłałam do druku dwie podwójne soboty to była jakaś tragedia…
2. Imladris.
Dobry konwent, z ludźmi i panelami i w ogóle. Chciałabym napisać jakąś zacną relację, ale póki co w wyniku drukarskich stresów i podróży do i z Krakowa, która dobiła mój organizm i poczytalność (5 godzin słuchania wycieraczki w busie! To skrzypienie nawiedza mnie w koszmarach…), ledwo żyję. Póki co taki skromniutki pseudodcinek więc: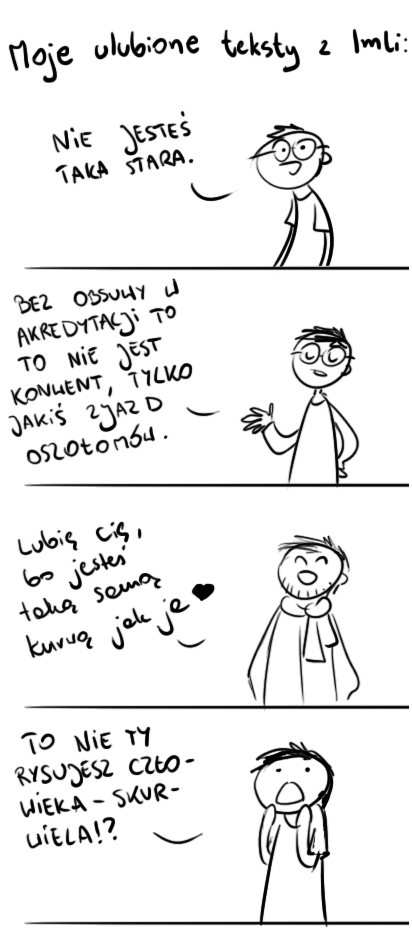 True stories.
Mam nadzieję, że mnie wysyłkowanie nie dobije i uda mi się coś sensownego w tym tygodniu na blogasku zamieścić.
3. Brian.
Brian nie żyje. To koniec pewnej ery…
4. Wkrótce rocznica 2 lat bez urlopu i urodziny. Nie wiem co dobija mnie bardziej.
This is all.
Ś.