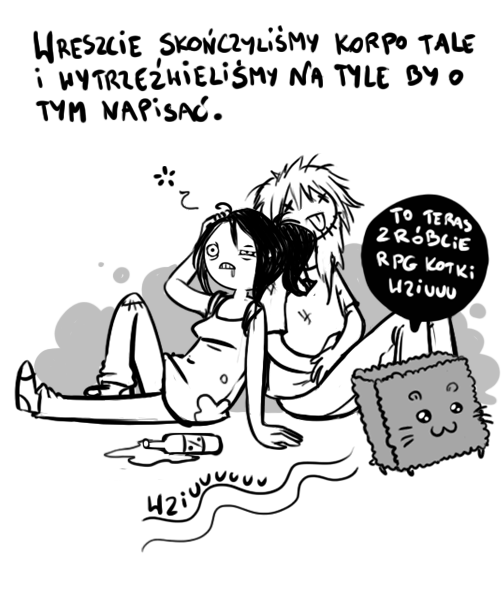 Gra trafiła do sieciomantów, a u tych sieciomantów to już całkiem oddzielne fakapy się pojawiły, ale wyszło na to, że "wiemy, że mieliście nam teraz oddać grę, ale się na to nie przygotowaliśmy, bo przesunęliście termin tyle razy, że nikt was nie potraktował poważnie".
I was like: this is perfectly understandable TT__TT
W tym tygodniu będzie wysyłka kluczy do każdego kto kupił grę, także do tych osób, które nabyły wersję pudełkową. Owe pudełkowe wersje i insze gadżety mam nadzieję ruszą w przyszłym tygodniu.
Chciałabym Wam jeszcze napisać jakieś rzeczy o tym jak wyszło, co dalej i tak dalej oraz o Kapitularzu chciałam napisać też, ale pół dnia miotaczem ognia sprzątałam dom mój i życie moje tak zaniedbane przez te ostatnie pół roku, że nic tylko wkroczyć w nie z miotaczem ognia i resetować, by ze zgliszcz i popiołów ulepić coś lepszego. Marcin jak u siebie w pokoju sprzątał to pleśń dosłownie na niego skoczyła, tak było źle. U mnie niewiele lepiej. No to napiszę to wszystko jak choć trochę odetchnę, bo teraz ledwo siedzę ;p
Przepraszam za ostatnią w tym projekcie (dla odmiany lekką) obsuwę.
Z ogłoszeń parafialnych na koniec:
– wkrótce będzie kalendarz 2016 🙂
– opracowałam technologię robienia miękkich sześcianowych kotów, wkrótce na allegro near you
– będę w tym roku na Falkonie
– jeszcze cośtam było, ale nie pamiętam.
pozdrawiam,
 Ślimag