Nic w końcu nie napisałam o MFK, to nadrabiam nieco.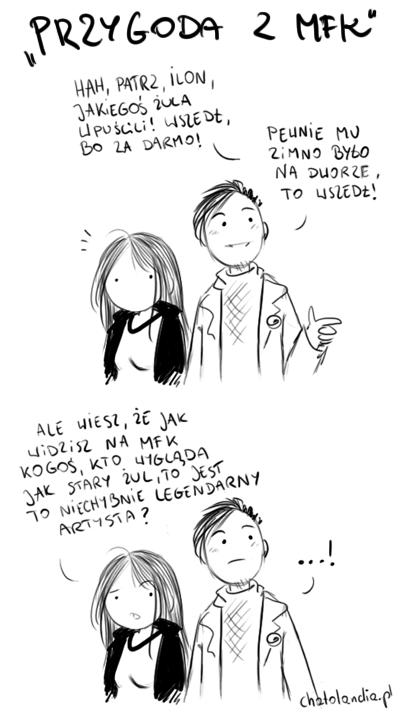 Nie myliłam się, facet był legendarnym artystą, ale nie powiem którym, bo obciach 😀 Tak więc uważajcie na konwentach z takimi osądami, no bo kurde 😀
Apropos jeszcze MFK, to pół dnia siedziałam tam obok Rafała Szałpy i mam jego komiks "Bler" z takim kurde autografem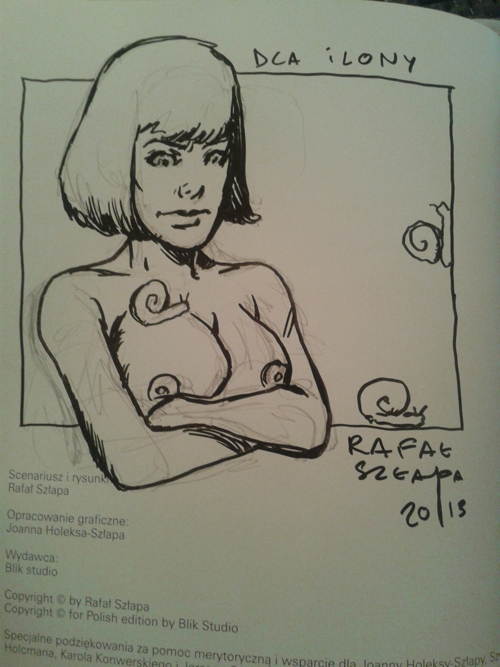 (Jak ten ślimak wspiął się na Lidię? Dlaczego go nie powstrzymała? Dlaczego on tam wlazł, jaka była jego motywacja w tej scenie? Milion pytań bez odpowiedzi!) W ogóle Rafał z zacięciem godnym lepszej sprawy każdemu kto sobie życzył rysował takie obrazki 😀 Tzn. obrazki bohaterów z komiksu, bo takiego jak ja to nikt nie miał MUHAHAHA x).
Z innych rzeczy, jakie do dziś pamiętam, to wanna – pojazd z "Tytusa, Romka i Atomka" bodajże i Artur (ten z komiksu dzisiejszego) tam wlazł i udawał, że tym steruje. Każde żywe stworzenie, jakie to zauważyło, zaczynało robić mu zdjęcia. So fockin fabulous. Zwłaszcza, jak zaczął w tej wannie robić zimny łokieć 😛
A w piątek rzucę odcinek o Sharknado. Sharknado było bardzo ważnym elementem tego wyjazdu.
– Ślimok