Chciałam narysować Wam coś radosnego na Nowy Rok, ale byłam głodna więc narysowałam to. Szyszkiego najśmieszniejszego życzę.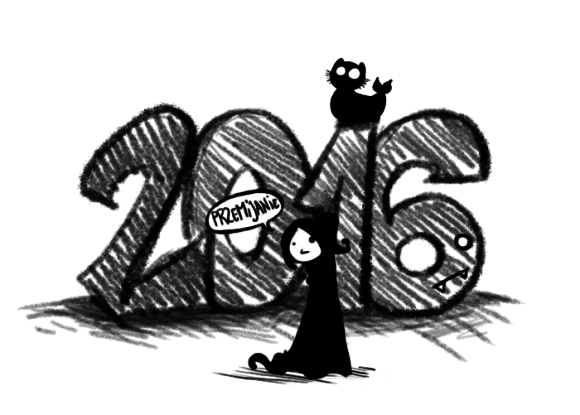 Jeśli ktoś nie dostał kalendarza i nie widział tego tekstu na fejsie, wklejam:
Ponieważ drukarnia kalendarzy postanowiła zawalczyć nie tylko o tytuł najgorszej drukarni w województwie, ale i najgorszej w kraju, to wysłała do Was kalendarze listami priorytetowymi lecz nie poleconymi (to zapewne dlatego, że umawiali się z nami na wysyłkę kurierską). Mogą się więc one znajdować w skrzynce na listy.
Właśnie dostałam wiadomość od kogoś, komu dostarczono przesyłkę mimo braku numeru domu i mieszkania na kopercie. Więc jeśli kalendarz do Ciebie nie dotarł, to być może dlatego, że jakaś umysłowa rozwielitka z drukarni nie wpadła na pomysł, by poszerzyć tabelkę w excelu i na Twojej kopercie nie było numeru domu i mieszkania. Ciekawe, czy chociaż nadawcę napisali? Na tym etapie spodziewam się już wszystkiego.
Wydawca mi powiedział, żeby tu Kalendarz2016@gindie.pl zgłaszać niedostanie kalendarza.