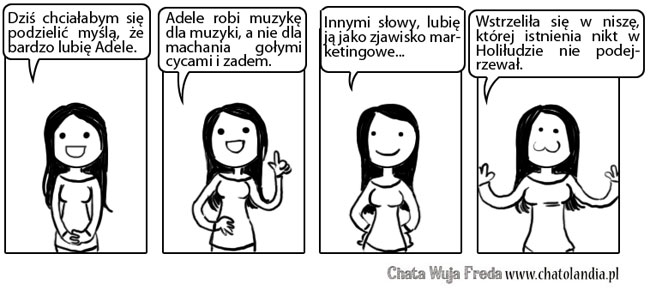 Dawno nic sama nie narysowałam. Wybaczcie potworną krzywość, ale jestem w podróży i warunki do rysowania są żadne.
Jeszcze co do opowieści – jak chcecie kupić nie music zakładać konta na allegro, przelew z adresem w tytule mi wystarczy. Allegro mi nijak do szczęścia niepotrzebne, wprowadziłam tą opcję dla osób, które czują się niepewnie wysyłając kasę jakiemuśtam ślimakowi z internetów.
Apropos – nie piszcie proszę w tytule "adres jak w adresie nadawcy przelewu" – niby żaden wysiłek to sprawdzić, ale pomnóżcie sobie ten "żaden wysiłek" przez kilkadziesiąt + jak już sprawdzę to cofa mnie do początku historii przelewów, co jest niefajne i komplikuje mi  życie. Więc – adres w tytule przelewu poproszę, amen, Bóg zapłać.