Jakby ktoś jeszcze nie wiedział z fejsbunia i tłitera

Póki co idzie bardzo dobrze, dziękuję za wsparcie i proszę wspierać dalej 😀 Jakby kto chciał dorzucić grosza to się to robi tak:
– wybierz nagrodę z panelu po prawej
– możesz zmienić zdanie i wybrać inną nagrodę
– klikasz "dalej"
– zakładasz konto na polakpotrafi
– klikasz "przejdź do płatności"
– wybierz metodę płatności i kliknij "WPŁAĆ"
– zaloguj się do banku itd.
W związku z pracami nad grą i zbiórką po raz pierwszy od dawna znowu regularnie siedzę w biurze. Jest to biuro nietypowe, ponieważ ma na ścianach artystyczne zdjęcia kostek do gry (w życiu by mi nie przyszło do głowy, że można fotografować artystycznie kostki do gry) i jest pies biurowy (dziś za sobą usłyszałam jakieś dyszenie i sapanie i już myślałam, że to szatan albo deadline, ale to był pies, całe szczęście) i jest mnóstwo planszówek wszędzie. Mój skrzywiony umysł pracuje bardzo pod kątem planszówkowym teraz.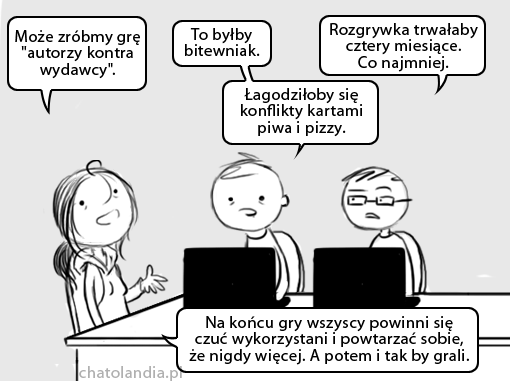 Tak jak gadam z ludźmi, którzy wydają cokolwiek, to niemal zawsze słyszałam hejty na wydawców. Black Monk póki co jest spoko (tak, dają mi jedzenie, żebym tak mówiła) i sobie można pośmieszkować ;D Jedziemy razem w weekend do Gdyni i będziemy tam pokazywać iGranie. Ok wracam rysować rzeczy, bo mam ich srylion do narysowania 😛
-Ś